Trusted by The Fastest Growing Brands in The World
Businesses Across The World Love KWIM
A centralized place for multiple team members for all incoming and outgoing inquiries. Easily collaborate on responses and ensure that no messages are missed or overlooked.
Assign incoming messages to specific team members
Set priorities for incoming messages.
Collaborate on responses to messages in real-time
Track the status of messages and see who is working on them
Set up automatic notifications for new messages
Use customizable templates for frequently used responses
Integration with other tools and processes, such as CRM, Helpdesk, Maintenance, RMA and After Sales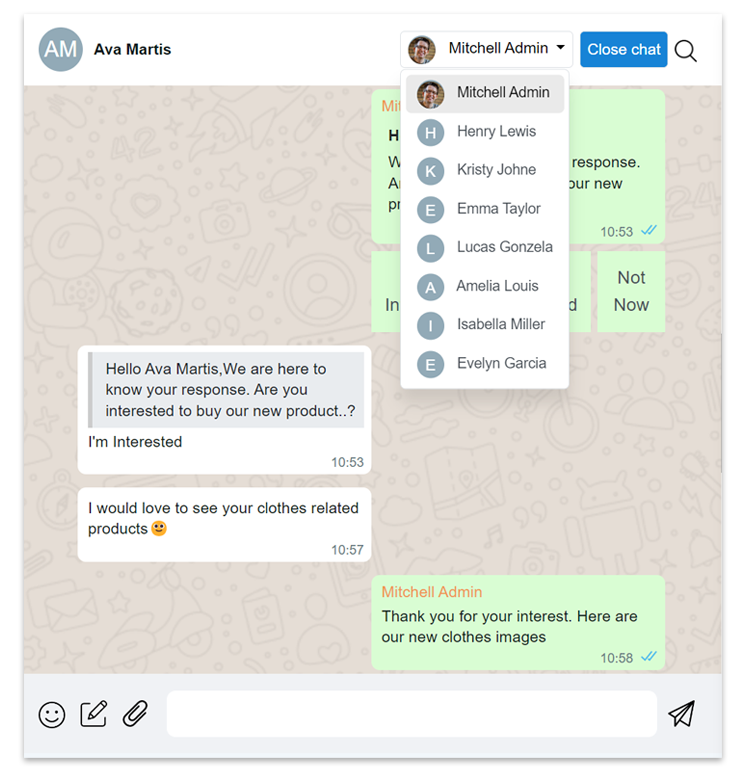 Trigger automated messages based on specific events or actions. Keep your customers informed and up-to-date on important events or actions.
Set up custom triggers that will cause a notification to be sent
Use customizable templates for the content of the notification
Condition-based notification sending
Track the delivery and status of notifications
Integration with other tools and processes, such as CRM, Helpdesk, Maintenance, RMA and After Sales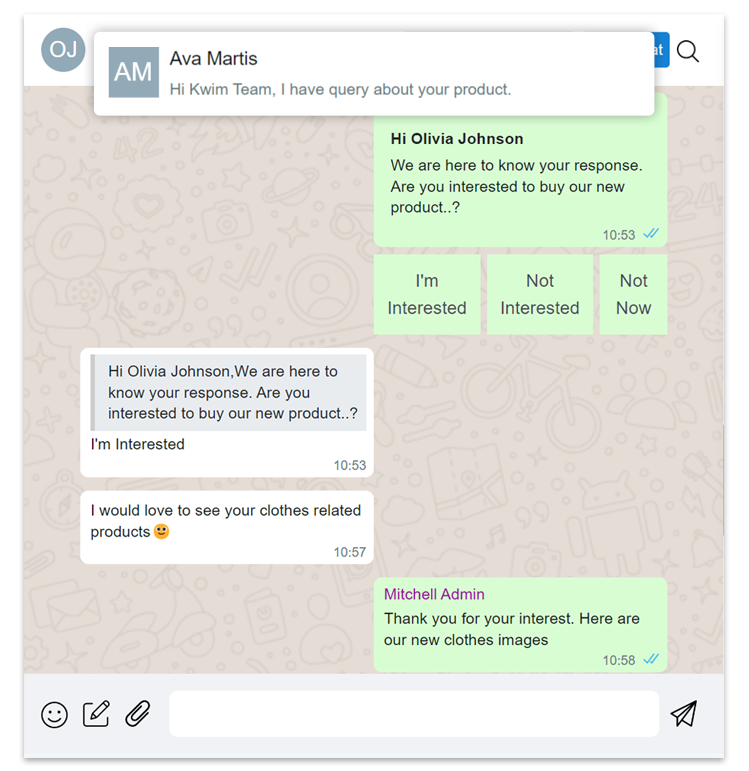 Pre-written messages and replies that can be quickly used to professionally answer customer queries that save time and ensure consistent messaging.
WhatsApp Approved pre-built library of commonly used responses
Use customizable placeholders to automatically insert relevant information
Create and manage the library of templated responses
Use rules or conditions to determine when a specific templated response should be used
Multi Linguale Template Support
Templates for Audio, Video, Document, Text and Image messages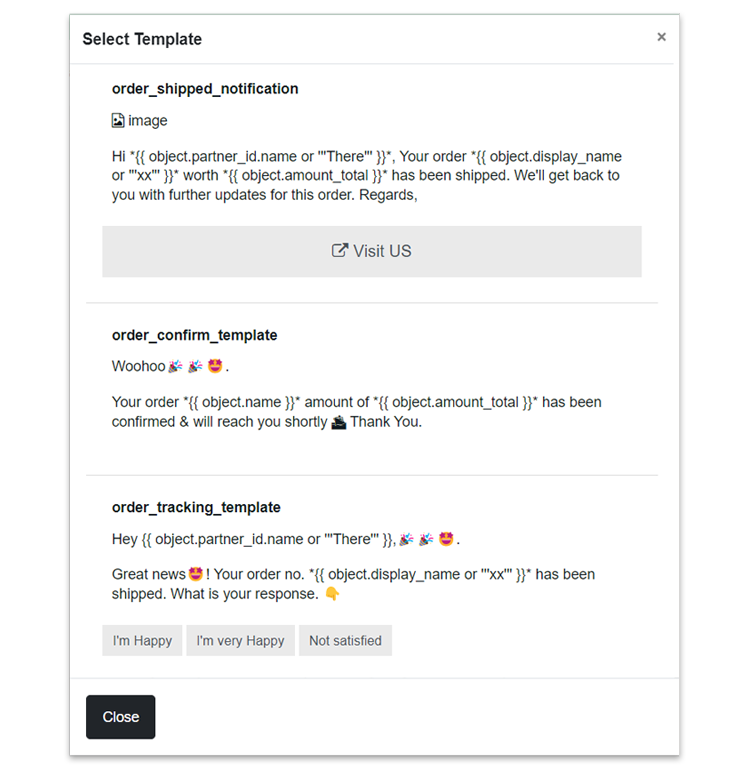 Create Interactive Audio, Video or Image based campaigns to engage the viewer and enhance the user experience. Grab the attention of potential customers and showcase a product or service in a more dynamic and engaging way.
Engaging, dynamic, and effective campaign designing
Customize the campaign to match the brand and aesthetic
Track campaign metrics such as read, open rate, clicks, and conversions
Target specific audiences or demographics based on various factors
Integrate with other advertising or marketing tools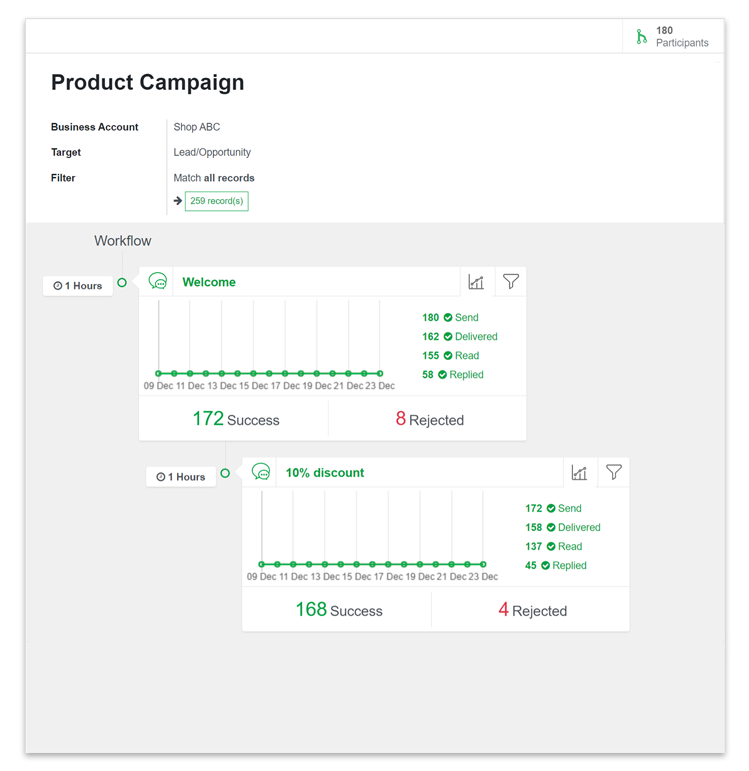 Measure various KPIs for individuals, teams and campaign with built-in analytics and reporting. Generate reports and insights to improve business performance.
Intuitive dashboard to visualize and understand the data
Track and monitor key metrics and indicators
Collaborate with other users for sharing reports and insights
Set up alerts and notifications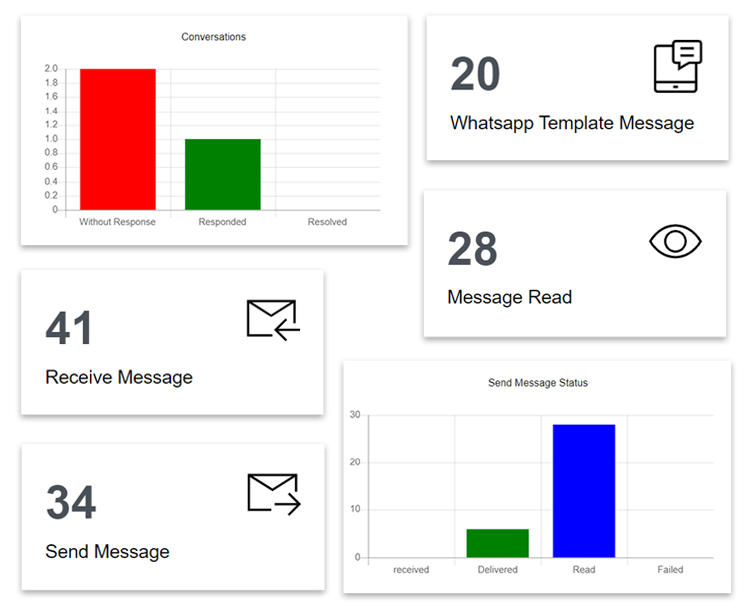 KWIM for Your Business
KWIM for Sales Team
With the KWIM chat widget on your website, you can reduce first response times, boost conversions and improve engagement.
KWIM for The Support Team
KWIM is a brand new chatbot platform built to help retailers get more out of their support and communication with customers.
KWIM for The Marketing Team
KWIM builds personalized communication strategies around best practices and delivers tailored offers to customers that get attention and convert.
Power of KWIM
KWIM is the fastest growing communication platform built on WhatsApp APIs
Reduction in
Marketing Costs
Why KWIM is Different
Using KWIM
Built on Top Of Official WhatsApp API Meaning Completely Secure and Safe Communication
Creating Superior Brand Image
Option to Get "Verified Green Tick" on WhatsApp
Higher Engagement Rates
Option to Add Buttons, Links, Images, and Documents in Messages
Complete User Interaction Tracking including Delivery, Open, Read Receipt
Possible to Execute Auto Responses and Automated Drip Campaigns
Can Be Used With Chatbots, Full Automation Possible
Using "Other" Solutions
Could Be Built Using Dubious Ways and May Not Work After Sometime
Your Brand Name is Not Visible
You Can't Get "Verified Green Tick" on This
Your Engagement Rate Remains Unknow Due To No Reporting
You Can Just Send As Simple Message With Links only, No Buttons or Actionable Response
No Reporting On Interaction
Not Possible To Do Automated Drip Campaings Due To No Interaction Update
Can't Use With ChatBot, Always Human Required
Why KWIM?
KWIM is the most comprehensive communication platform built on official WhatsApp APIs. We help you manage multiple WhatsApp Businesses and collaborate with your teams using a single platform.
Built on Official WhatsApp API
Simple Setup and Use
Fully Integrated with Odoo / Flectra ERP Flow
Template Driven Communication
Extensive Reporting and Analytics
Exceptional Customer Experience
Better Response Rates and Higher Open Rates
Reliable and Dependable
Affordable Pricing with Zero Setup Fee
Unlimited Team Members
Free WhatsApp API Approval and Setup
WhatsApp Broadcast & Message Scheduler
Free 1,000 Conversations Per Month
Bulk WhatsApp Notifications and Campaign Analytics
Unlimited Live Chat conversations
48 hours SLA for Support
Advanced Campaign Filters
Roles & Permissions
Support Via : FAQs Videos Blogs Ticketing System